Emergency Services Available
Thunderstruck Exteriors excels in the area of insurance replacement contracting. We are experts in the fields of renovation and restoration due to storm-related damage.
Residential and Commercial
We take pride in offering our storm damage services to our residential and business customers. We ensure each customer receives the highest standards in construction with our efficient, professional and reliable storm damage service. Customer satisfaction is of the utmost importance to us. Our testimonials and ratings are a reflection of the superior quality services we offer.
As an authorized Owens Corning preferred contractor, our certified specialists oversee the entire replacement efforts, from a simple job to complete property restoration. Call us today to schedule an appointment with our skilled service specialist to inspect your property and determine the severity of damage that may have been incurred by a recent storm.
"I would like to thank you and your company for the recent storm damage repairs on my home. You were very patient with answering my many questions, and helping choose shingles, siding and windows. Jon kept me involved throughout the entire process, along with assisting with the insurance company. I am very satisfied with the workmanship done by you, and will gladly refer Thunderstruck Exteriors to family and friends." — Ken Nelson, Isanti, MN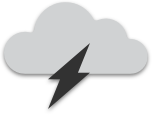 Emergency service available
Do You Need Services
Related to Storm Damage?