New and Replacement Roofs
When it comes to roofing, Thunderstruck Exteriors ranks far and above any one of the numerous roofing companies that have recently sprung into business.
From simple repairs to total roof replacements, we will be there from start to finish. As an authorized Owens Corning preferred contractor, you can be assured that you are receiving the highest standards in construction and restoration. Contact us today to schedule your free assessment and learn more about our five-year no-leak warranty.
"Thunderstruck Exteriors recently reroofed my home after a hail storm moved through this summer. My home was reroofed five years earlier during a different hail storm by a different company. My experience with Thunderstruck Exteriors was by far and away a more positive one in comparison to five years ago. Jon took his time and answered all of my questions. He explained in detail differences between shingles and helped me decipher the best shingle for my home. I felt involved throughout the entire process. Jon and his team completed the reroofing job in a professional and timely manner. I was pleased with their workmanship and the quality of product selected for my roof." — Kristie, Big Lake, MN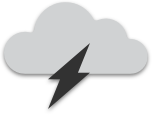 Emergency service available
Is it Time for
Roofing Services?